Etowah County Sheriff's Office Partners with Central Alabama CrimeStoppers
02/22/2023
PRESS RELEASE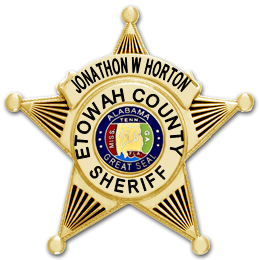 Etowah County Sheriff's Office Partners with Central Alabama CrimeStoppers
Wednesday February 22, 2023
Etowah County Sheriff Jonathon Horton is proud to announce a newly formed partnership with Central Alabama CrimeStoppers.
On Wednesday, February 15, 2023, Central Alabama CrimeStoppers Executive Director, Tony Garrett, and Etowah County Sheriff, Jonathon Horton met to discuss the benefits of a new partnership that will help fight crime. This partnership will help reduce crime while empowering citizens of Etowah County to submit tips for unsolved crimes. Residents will be eligible for cash rewards up to $5,000.00.
Central Alabama CrimeStoppers is a nonprofit organization that brings together law enforcement, media, and the community to stop, solve, and prevent crime.
Etowah County Sheriff's Office now has access to CrimeStoppers P3 Tips Management Software and the unlimited ability to distribute lookouts for wanted criminals, missing persons, and unsolved criminal cases that will be placed on CrimeStoppers digital media outlets and to our many media partners.
With the addition of the Etowah County Sheriff's Office, Central Alabama CrimeStoppers now has a written agreement of partnership with 80 law enforcement agencies in Alabama. CrimeStoppers is a free service available to law enforcement agencies across the state that do not currently have a CrimeStoppers program.
Etowah County residents can now anonymously contact Central Alabama CrimeStoppers with any information to share regarding crime. Residents can use Crimestoppers' 24-hour tip line by dialing 334-215-STOP (7867) or by downloading the P3-Tips App available in their mobile app store. Residents can also provide information via the web at www.215stop.com. CrimeStoppers also has a toll-free 800 number, 1-833-AL1-STOP, which provides 1-STOP access for reporting crime.
Etowah County residents are empowered to fight crime, starting today, by calling or downloading Central Alabama CrimeStoppers media app P3 Tips. Start reporting information about crime with complete anonymity.
CrimeStoppers doesn't need your name, just theirs. Tips that are given that lead to an arrest are eligible for a cash reward of up to $5,000.00 to be paid within 30 days of the arrest.